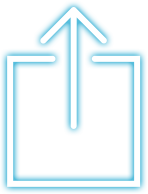 I Have My File
With today's fast paced dentistry, do not get caught up in the sales hype. Managing your own 3D printer may not be all it's cracked up to be. Our experience and properly maintained equipment, followed by "Quick Connect" speed, will ultimately save you time and money by allowing us to provide a consistent product focused on patient care.

Printing On Demand
Quick Connect by Coredent is like having access to your own 3D printer right in your office. When a file is uploaded, we send it directly to one of our highly calibrated 3D printers. The result? You save time and money by cutting out processing times. Simply send your file, and you're done.
Contact Us to Get Started
Same Day Shipping
We know the importance of getting your printed guide back in a timely fashion. We've worked to streamline our process to allow for fast and accurate production of your files.
If you upload by 11:00 am EST, In most cases your guide will ship out on the very same day!
*Does not apply to weekends or company holidays