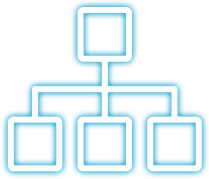 In Between
We understand the complexity of modern dentistry and how it relates to the multidisciplinary team approach. With this in mind, our objective is to create an environment in which you can engage with us on any level. Think of us as your surgical support partner, filling any gaps that may exist in your workflow.
We have encountered many different scenarios that fall in this In-Between category. For example:
I Have a Plan
If you have a finalized plan, but need help with guide design and manufacturing, we've got you covered there too!
I Don't Have the Appropriate License
If you have a finalized plan and a guide design, but don't have the appropriate license to export your design for manufacturing, we can do that!
I Don't Need Online Planning
If you need file assembly and case presentation, guide design, exporting, and manufacturing but don't need online planning, we're your guys.